The Museum of Modern Art is undergoing a face lift and they contacted Art Display Essentials to help guide them through the process of updating and streamlining their crowd control options.
Kristen Draeger in MoMA's Visitor Engagement Department says, "At The Museum of Modern Art, we are constantly seeking new ways to create the most welcoming environment and accessible visitor experience for our guests. In the midst of our expansion, we have been re-assessing our visitors' needs and have taken this opportunity to address various projects with a larger operational impact.
We determined it was time to upgrade and refresh our stanchion equipment. While we are always working to remove barriers between our guests and our art, we need stanchions to keep our visitor experience safe, efficient, and accessible. The Art Display Essentials team has been exceeding our needs and expectations for over 10 years. They have worked closely with us to develop the best solutions for our operations and our visitors. Their new stanchion model reflects the most current ADA regulations and helps us maintain our commitment to Accessibility. The team is extremely reliable, innovative, and passionate about art and the visitor experience. We are satisfied with their products and appreciate the new designs they can create to address our various challenges."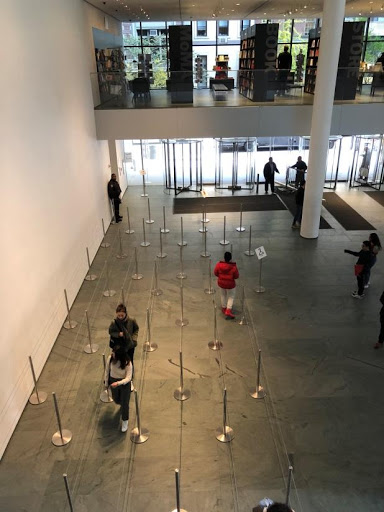 Due to Art Display Essentials' long relationship with the museum, the team trusted that the sales and design team at Art Display Essentials would have the best solutions to suit their needs. After a couple of meetings and many discussions, the team came up with a new crowd control layout for MoMA with the plans to replace all of the out of date and miss-matched stanchions and signage MoMA had collected over the years with the USA made Q-Cord Retractable Barrier system and brand new MuseumSigns signage. This gave MoMA a modular system that is easy to set up and is also manufactured and stocked merely 2 hours from Manhattan.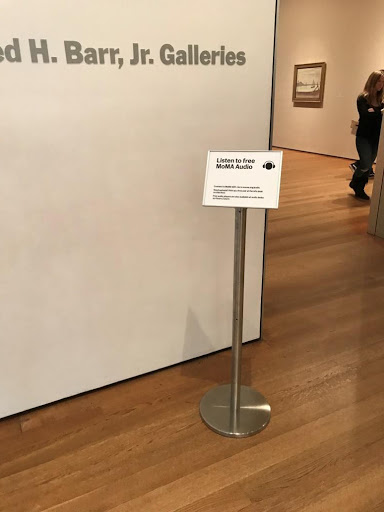 ADA compliancy and accessibility is a very important factor in the visitor experience and ensuring that everyone can safely enjoy the facility is crucial. When the ADA 2010 regulations were released, the designers at Art Display Essentials immediately started to evaluate ways that would improve sleek and modern queueing while still staying within the ADA guidelines. The Q-Cord Retractable Barrier offers safe, ADA compliant queuing in the world's narrowest diameter retractable queuing post. The sleek design offers a discreet and elegant queue line that blends into the environment and doesn't distract from the atmosphere around it.
The Q-Cord Retractable Barrier system is currently guiding MoMA and its guests towards a more modern approach to crowd control and accessibility. Since the Q-Cord product line exceeds ADA 2010 requirements, everyone can now safely enjoy everything The Museum of Modern Art has to offer.